PlagAware Corporate License

The PlagAware license model is available to all institutions and companies interested in offering professional plagiarism scan services to a community of end users. Together with the PlagAware license, you will receive a license key to unlock an unlimited number of PlagAware accounts.
Professional Plagiarism Scans for Institutions and Companies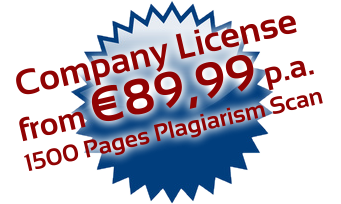 The PlagAware license can be administered and managed by a dedicated administration account. Administration tools include
check_circlecreation of usage statistics and -reports ,
check_circleend user and account management,
check_circlelimitation of plagiarism scan volumes for user groups (quota settings) and
check_circlespecification of scan engine und report settings for all associated users.
Yearly Licenses from EUR 89.99 (incl. VAT) for 1500 ScanCredits
PlagAware corporate licenses are already available from 1500 ScanCredits (approx. 1500 pages of plagiarism scans, 250 words each page) at a rate of EUR 89.99 incl. VAT. However, due to its scale-able architecture, PlagAware is also able to handle much larger volumes of plagiarism scans in a professional and performant way.