Plagiarism Scans for Universities and Schools

For the special requirements of plagiarism testing in universities and schools, a tailor-made licensing model is available. This license model features an unlimited amount of plagiarism scans of all text created within the licensing organization at a fixed price rate.
Fixed price for the unlimited plagiarism check from €189.99 (incl. VAT) per year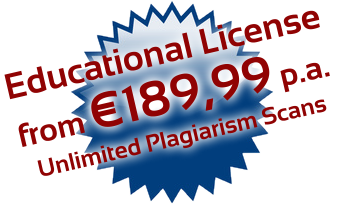 The PlagAware university and school license is an annual license that covers all plagiarism checks of own work such as term papers, bachleor- or master theses during the license term without limitations.
The expected test volume is estimated by the number of students. Thus, the annual cost of the license depends on the size of the educational institution.
The license covers all texts created at the licensing institution. These include seminar papers, term papers, bachelor theses, master theses or dissertations.
Request offer for educational license