Getting started with PlagAware - A quick guide to plagiarism checking
Welcome to PlagAware! Your first steps with PlagAware are straight forward and can be done in just a few minutes. We'll get you started with our quick guide for plagiarism checking with PlagAware and will be explaining the most important features - let's get started!
Welcome to PlagAware: How to create your user account
Key Facts at a Glance

looks_oneCreate your free PlagAware user account. It's quick, non-binding and allows you to perform plagiairism checks of uup to 10 pages - totally free of charge.
looks_twoUpload your text file for plagiarism checking. Your data is safe with us. They are subject to the GDPR, can be deleted at any time and will of course not be shared with third parties.
looks_3Analyze in the interactive report which parts of your text correspond to billions of online sources and your library texts.
In order to be able to carry out a plagiarism check at PlagAware, you'll need a free user account. All of your tests and reports are saved in this account so that you can review or revise your test results later if you wish.
If your school, university or company already uses PlagAware, ask your license administrator for your PlagAware license key. Your license administrator has also received our quick guide for plagiarism checking with PlagAware, which contains your license key. You can then enter the code immediately when you register and thus link your account to the license.
When you register, we will credit you with 10 ScanCredits. With 1 ScanCredit, 1 standard page can be checked for plagiarism with 250 words each. So you can get started right away and try out PlagAware with your own texts!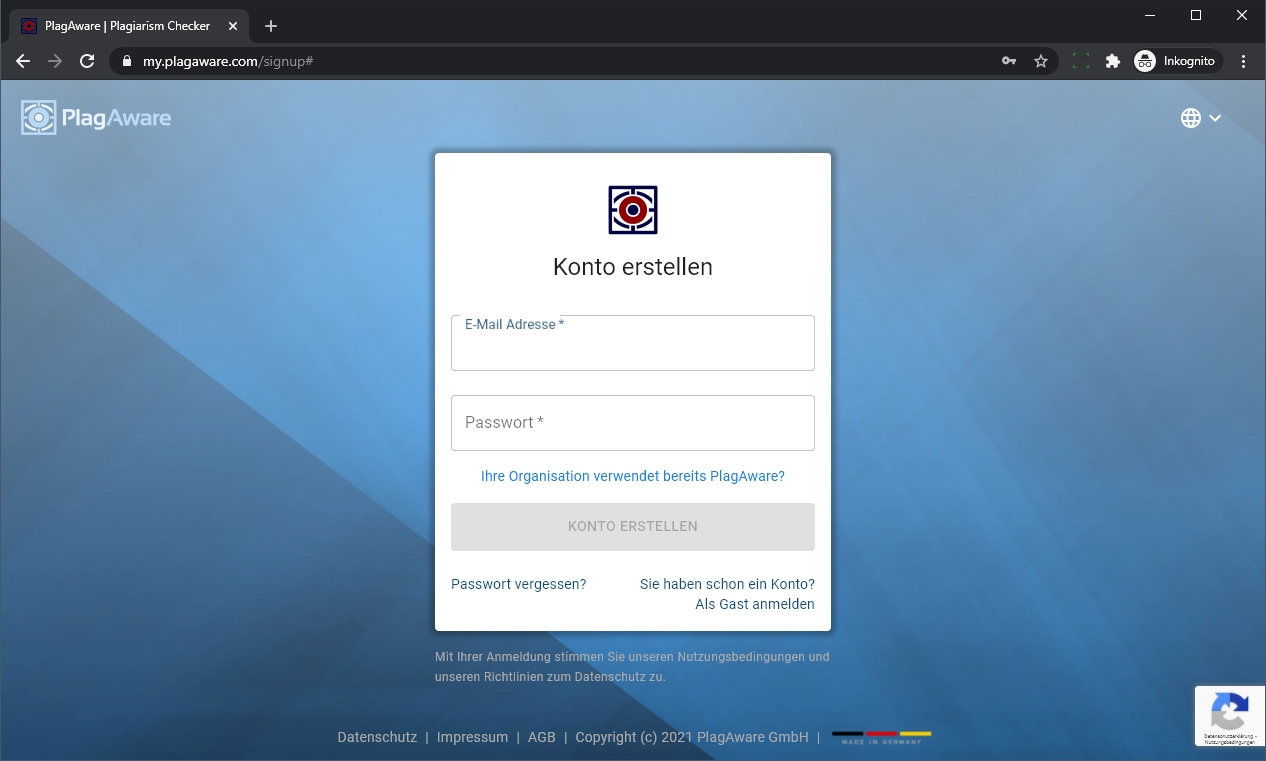 Create your PlagAware user account
With a free user account, you can keep track of the plagiarism checks carried out and revise them later. Enter your school, university or company license code to link your new account to your organization.
If you would like to get to know PlagAware "from the inside" first: No problem: simply click on "Register as guest". You can then explore the PlagAware user area without creating a user account. We have already saved a sample plagiarism check in your guest account so that you can see how the check results are displayed in PlagAware.
Here we go: your first plagiarism check
Are you ready to do your first plagiarism check with theis tutorial? Don't worry, it's quick and easy. First click on "New plagiarism check" in your dashboard or in the menu on the left.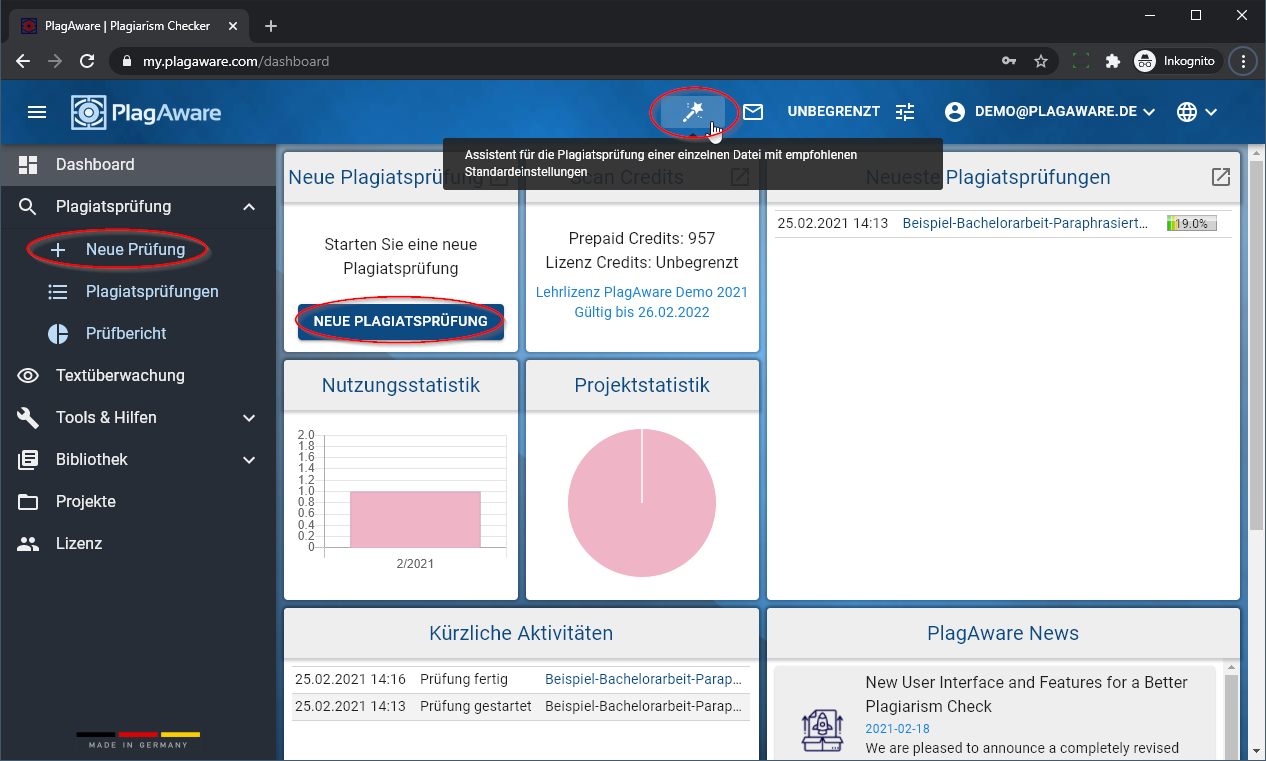 Your control center - the PlagAware dashboard
Your dashboard is the control center of PlagAware. From here you can access the most important functions, such as ordering a new plagiarism scan, with a single mouse click.
If you only want to check a single file and would like to use the standard settings recommended by PlagAware, you can simply start the wizard. You open the wizard by clicking on the "magic wand" symbol in the menu bar.
Submit your test text
First upload the file to be checked. You do not need to prepare your file separately, all common file formats up to a size of 100MB per file are supported. In the unlikely event that problems should arise - for example, because the file contains a large number of images or you are using a very exotic file format - please save your file as a plain text file and upload it.
If the file has been uploaded successfully, you will be shown how many standard pages of 250 words each contain your text. Depending on how your word processing program counts words, there can be deviations of up to 10%. This is normal and not a cause for concern - the entire text will of course be checked.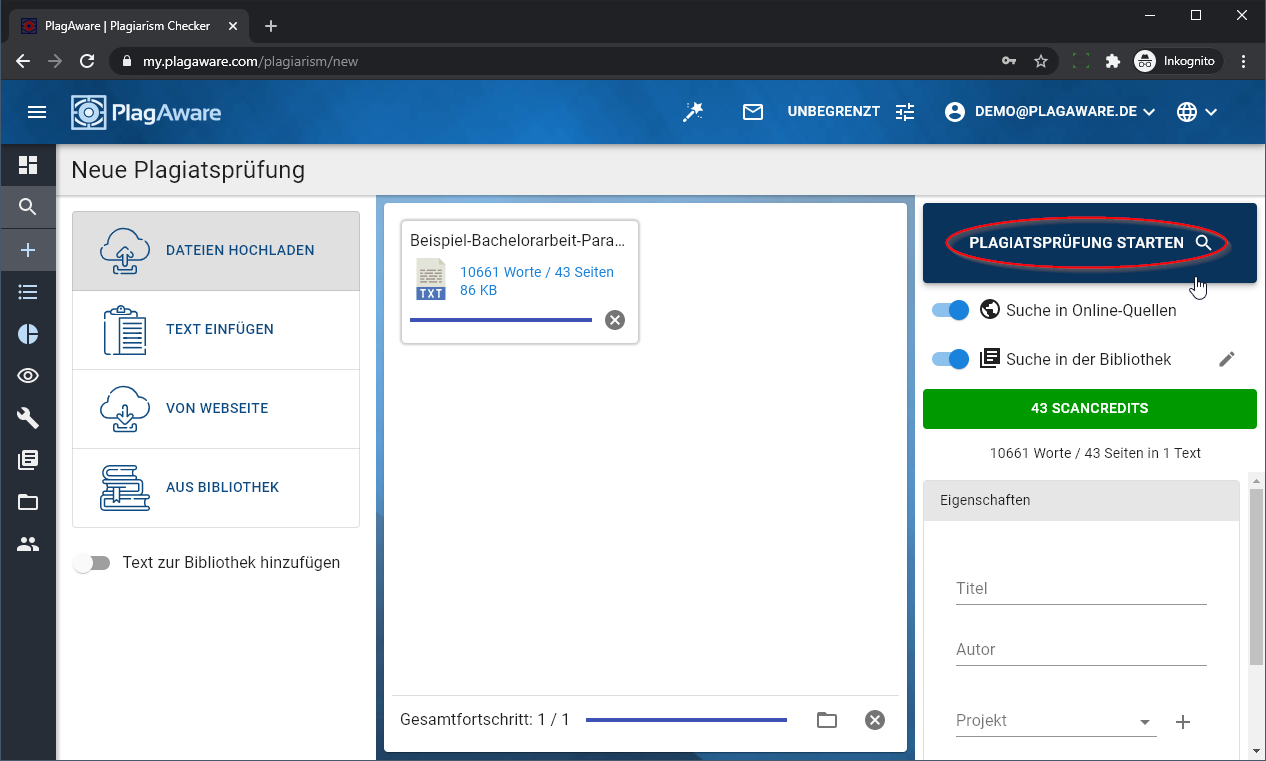 Upload the test file
You can upload your test file in all common file formats. Uploading up to 100 files at the same time is also no problem.
How is the test text processed?
Your data is safe with us. All of our servers are in loacted in Europe, we process all data in accordance with the guidelines of the GDPR and never pass your data on to third parties. After you have uploaded your file, we read the text content and remove your original file from our servers. Of course, all data can also be deleted manually at any time.
What are ScanCredits?
To start the plagiarism check, you need ScanCredits. ScanCredits are the currency of PlagAware, 1 page (or 250 words) plagiarism check corresponds to 1 ScanCredit. If your text is too long, you can either submit a shortened version or buy ScanCredits in our shop.
Tip: Use our experience with the standard settings

For the first plagiarism check, you can leave all other settings in the default state. All recommended settings are already preset.
Guide for performing the plagiarism check
Now start the plagiarism check by clicking on "Start plagiarism check". Your plagiarism check will now be carried out in the background. If you want to look over the shoulder of PlagAware during the plagiarism check, you can open the check from the overview by clicking on the name of the plagiarism check. You can then follow live how many possible sources have already been identified and are now being analyzed in more detail.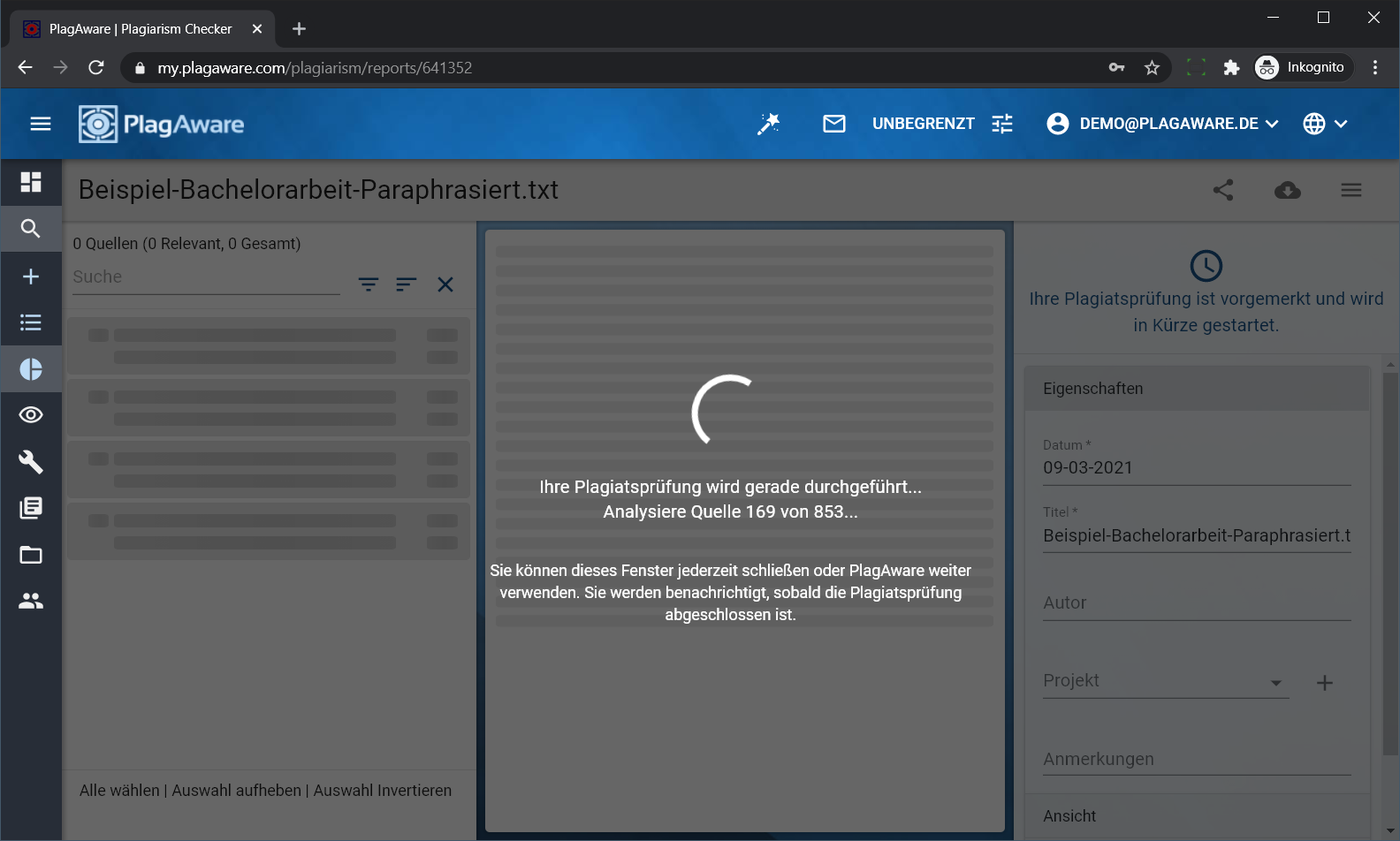 Your plagiarism scan is being performed
If you wish, you can follow live as our award-winning algorithm detects plagiarism. The check is completed when no new sources have been found and all sources found have been analyzed.
Of course, you can let PlagAware work in the background - you will be notified as soon as the test has been completed. If you stay on this page, you will be redirected to the results page after the test has been completed.
Evaluating plagiarism checking results
Once the plagiarsm check is finished, you can review the identified sources found in detail. Simply click on the name of a plagiarism check to open the corresponding results report. In this quick guide for plagiarism checking, we use a real, unedited Bachelor Bait as an example, which contains some paraphrased - i.e. rewritten - sources.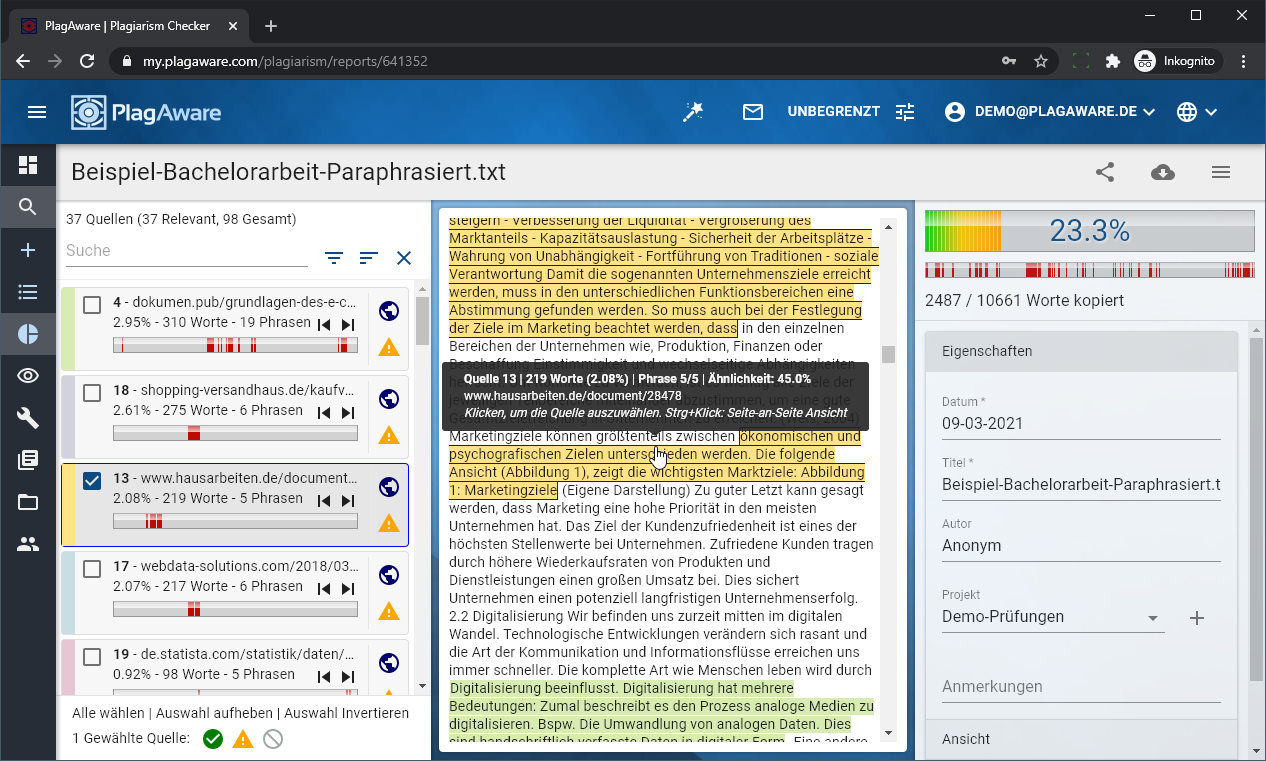 Interactive plagirism scan report from PlagAware
The interactive plagiarism check report is the core of PlagAware. Here you can quickly and easily check and rate all sources of your text.
The results report is divided into three parts. All identified sources are shown on the left-hand side. The checked text is shown in the middle text field with color-coded references. The color is used to assign the respective sources. Finally, on the right-hand side, there is the overall assessment of the report. The rating is given in the form of a percentage, which indicates the number of words in sources suspected of plagiarism in relation to the number of all words in the checked text.
How was the source modified? Find out with the graphic comparison!
If you click on a source, you can display a comparison of the selected source with the test text. This enables you to quickly and easily assess how much of the text has been rewritten ("paraphrased").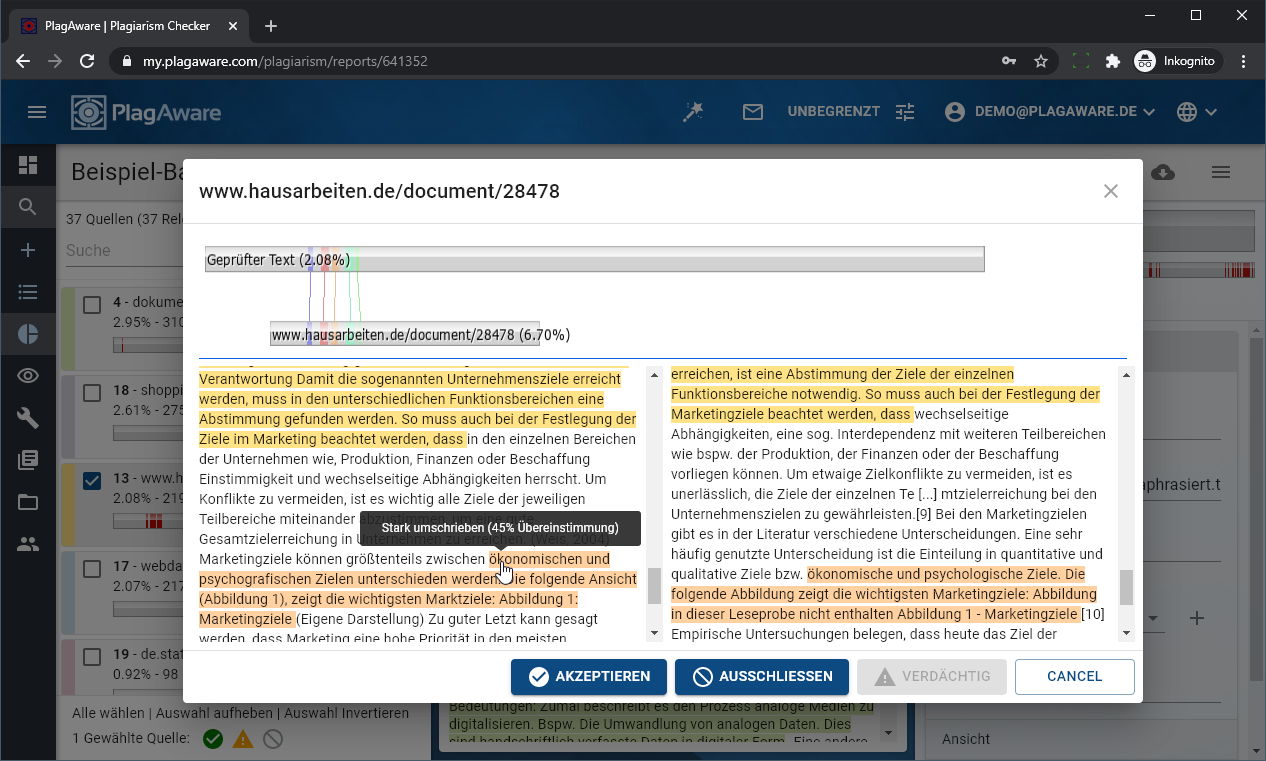 Examine sources side-by-side
With a click on the found source, you can quickly and easily examine how the text has been revised. A fuzzy search enables PlagAware to reliably find even heavily paraphrased texts.
Of course, you can make your own assessment of the source: If you classify a source as "accepted", you are declaring that the source has been cited correctly - possibly with from a deviating location. If, on the other hand, it is an erroneously found source, you can also completely exclude it from the evaluation. This updates the overall assessment of the plagiarism check.
Creation of the results report
The interactive test report can only be viewed by yourself. If you want to share it with others, you can use the "Share" button to create a write-protected version of the test report, which can also be viewed by others without their own PlagAware user account.
Of course, you can also download a version of the test report in Microsoft Word or Adobe PDF in various formats. The Word document is particularly suitable for revising references and, if necessary, having a revised version checked again. The PDF report is intended to archive the test.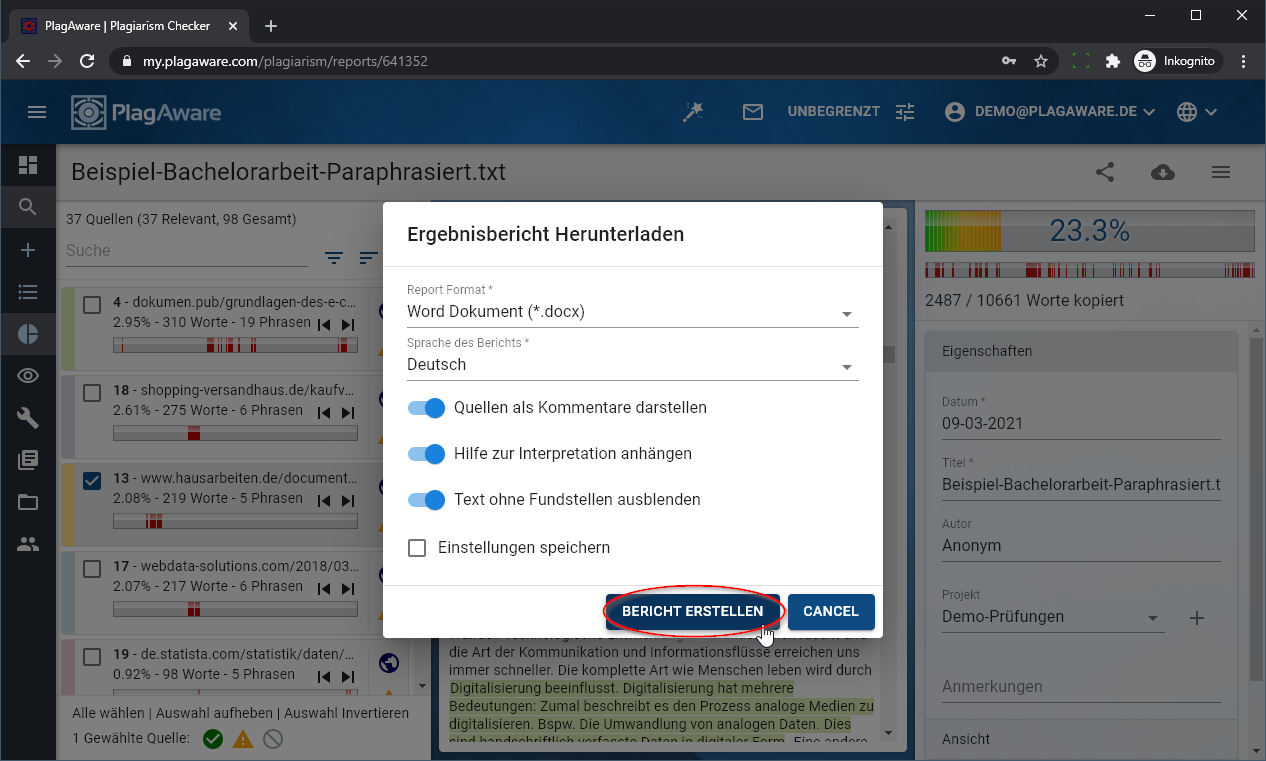 Create your test report
You can download a plagiarism check report with all sources found in various formats. In particular, the report in Microsoft Word format allows you to revise the sources found.
Of course, all sources are annotated in detail in both formats so that you can see at a later point in time which sources PlagAware has identified, just like displayed in this guide for plagiairism checking.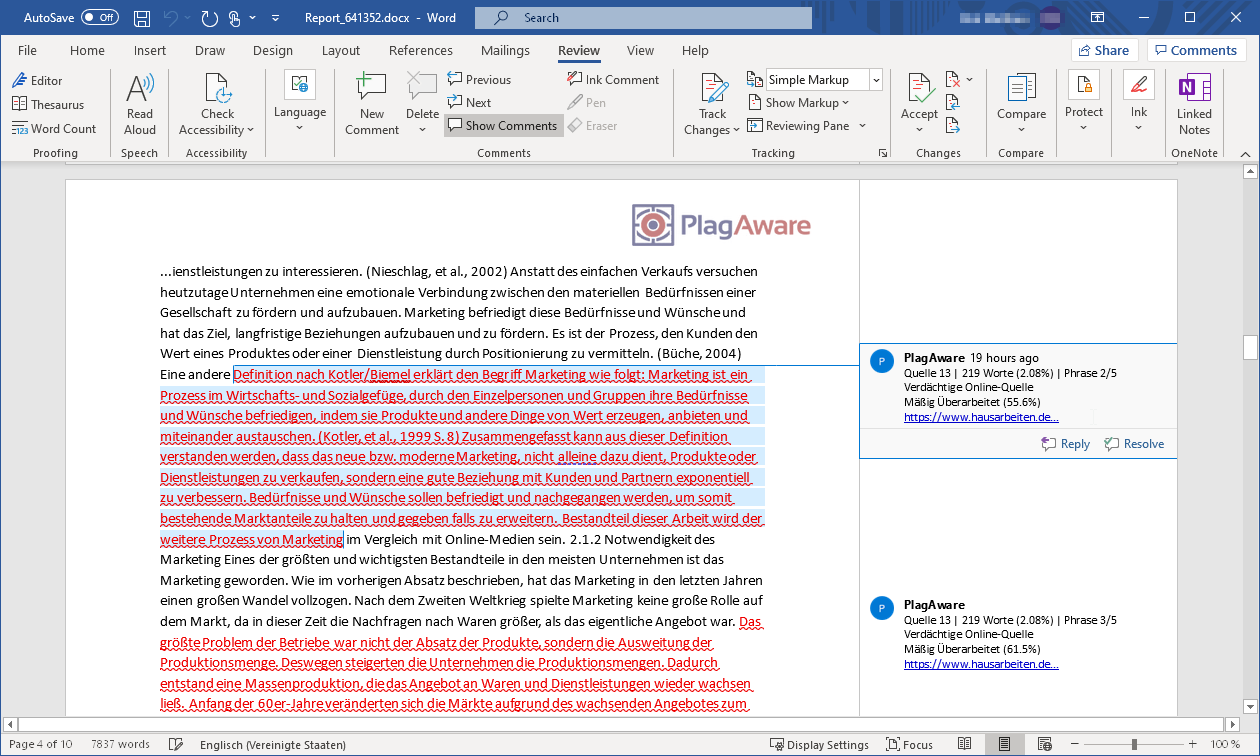 Result report of the plagiarism scan in Microsoft Word
The Microsoft Word report doesn't just list the sources. With the comment function in Word, you can see exactly in which sections of your text PlagAware has identified possible plagiarism.
More articles on the topic
You have now got to know the basic function of PlagAware. But there is still a lot to discover!